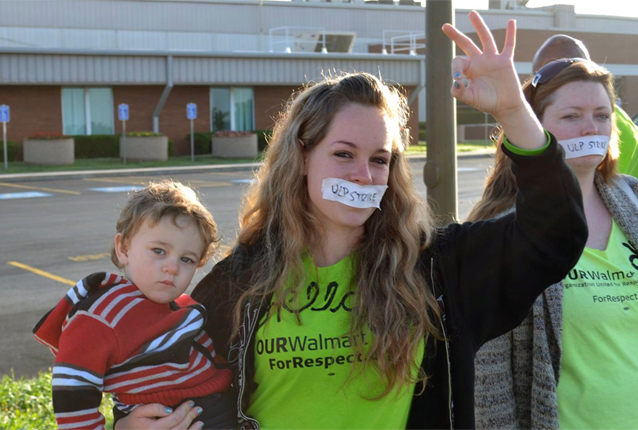 May 31, 2014
At Walmart stores across the country, many employees are afraid to say they're pregnant for fear they will lose their jobs or be forced to take early leave they can't afford.
Candace Riggins, a pregnant Walmart employee, asked for a small accommodation – to be moved away from the chemical fumes that were irritating her to a cashier or floor associate position. Instead of meeting with Candace to talk about accommodations, the store manager avoided Candace with excuses. Even after asking for accommodations and being denied, she continued to work and later passed out and had to go to the hospital twice. Her doctor's opinion is that her work could be causing the complications.
And Candace isn't the only one. Many women have similar stories and have no choice but to go to work, concealing their pregnancy while performing duties that their medical providers warn may hurt them or their unborn babies. From climbing ladders and lifting heavy goods to scrubbing bathrooms with dangerous chemicals and being refused bathroom breaks, these women endure conditions that put their health at risk, simply because Walmart refuses to make simple changes1 to help them continue to work as productive team members.
Now Walmart is facing class action legal claims about its lack of pregnancy accommodations2; it needs to take the health of its pregnant workers seriously!
After expectant Walmart workers, Walmart moms, women's organizations and supporters from the Jobs With Justice network called on Walmart to address its arcane pregnancy policy, Walmart took the first step in addressing these complaints by finally extending basic accommodations for pregnant women experiencing temporary disabilities caused by pregnancy3 – a very simple adjustment Walmart had refused to make in the past.
But now it's time to call on Walmart to extend these simple adjustments to ALL pregnant women who have a medical need for them – whether they have complications or a normal pregnancy.
As the largest private employer of women in the country, Walmart should set the standard for how women workers are treated throughout the industry and our economy. No woman should be forced to live in fear or risk their health simply because she wants to have a family. Tell Walmart, it's time to do better for Walmart moms.
References:
1 http://www.abetterbalance.org/web/ourissues/fairnessworkplace/293-pregnant-workers-at-walmart
2 http://www.msmagazine.com/news/uswirestory.asp?ID=14928
3 http://www.washingtonpost.com/blogs/wonkblog/wp/2014/04/05/under-pressure-walmart-upgrades-its-policy-for-helping-pregnant-workers/
Find Your Elected Officials
It just takes a second!
Search
Find Your Local Jobs With Justice
Jobs With Justice is bigger than just one organization. Get to know your local coalition.
Search
Take the Pledge
Will you stand up for the rights of all workers?
Count Me In