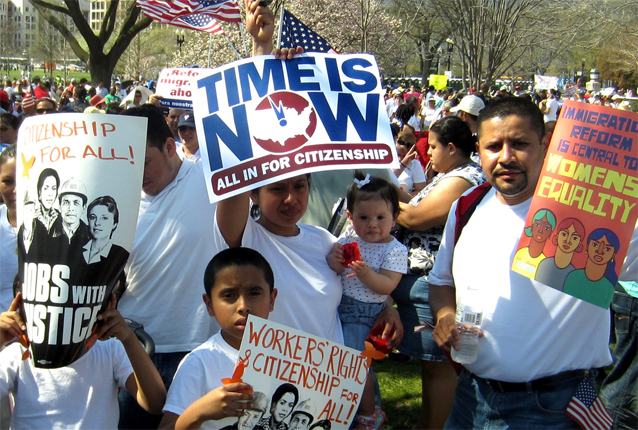 March 26, 2014
This week we finally have an opportunity to break through the obstruction of House Republican leaders who are needlessly holding up immigration reform. There's a groundswell of support for a comprehensive solution to fix our broken immigration laws, but Speaker Boehner and his leadership team have been dragging their feet, blocking any chance for meaningful reform.
Today Democratic Leader Nancy Pelosi announced the launch of a discharge petition to force a vote in the U.S. House of Representatives on H.R. 15, the Border Security, Economic Opportunity and Immigration Modernization Act. Modeled after the bipartisan Senate bill, H.R. 15 isn't perfect, but it does include a pathway to citizenship and strong protections that will help ensure bad employers can't exploit workers in the shadows of the economy. It also removes the controversial "border surge" amendment that was tacked on to S. 744 at the last minute.
Don't be fooled by the complicated terminology – a discharge petition is simply the procedural method for House members to get an up-or-down vote on a bill when the Speaker and his lieutenants obstruct the normal legislative process.
Having this way to demand a vote is welcome news for immigrant rights and workers' rights advocates who have been raising their voices on the need for the House to vote on a permanent immigration solution. As our executive director Sarita Gupta commented in a statement:
"Each day that Speaker Boehner and House Republicans are able to put off a vote on immigration reform is another day that families are needlessly torn apart and standards for all workers are lowered. Cases of bad employers using the broken immigration system to retaliate against workers blowing the whistle on labor abuses continue to mount. Mothers and fathers who have done nothing more than ask that employers respect their basic workplace rights continue to be deported."
This is a put-up or shut-up moment for Republicans and Democrats who have said publicly that they want to solve our immigration crisis. Just 218 signers are needed on the discharge petition to make sure we get an up-or-down vote this year. Will you call your representative and ask her or him to sign on to the discharge petition for H.R. 15? Call now at 1-877-683-6270. Here's a call script to help you out:
Hi, as a concerned [STATE] constituent in favor of comprehensive immigration reform, I'm calling to urge [YOUR REPRESENTATIVE's NAME] to sign Representative Joe Garcia's immigration reform discharge petition to demand a vote on H.R. 15. Thank you.
The ball is clearly now with the House of Representatives to fix our profoundly broken immigration system. Help motivate them to act. Please take two minutes to make a call to your representative today!
Find Your Elected Officials
It just takes a second!
Search
Find Your Local Jobs With Justice
Jobs With Justice is bigger than just one organization. Get to know your local coalition.
Search
Take the Pledge
Will you stand up for the rights of all workers?
Count Me In